Basic Tube
Supports Filters
No
Colorable
Yes
Rotatable
No
Payloads
All
Since
1.0.0
Basic tubes make up the backbone of your tube networks. They carry all types of payloads going to all types of destinations at the same time.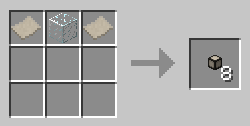 You will require:
Ad blocker interference detected!
Wikia is a free-to-use site that makes money from advertising. We have a modified experience for viewers using ad blockers

Wikia is not accessible if you've made further modifications. Remove the custom ad blocker rule(s) and the page will load as expected.